Green roof gardens - an ancient concept revived and refined for contemporary use!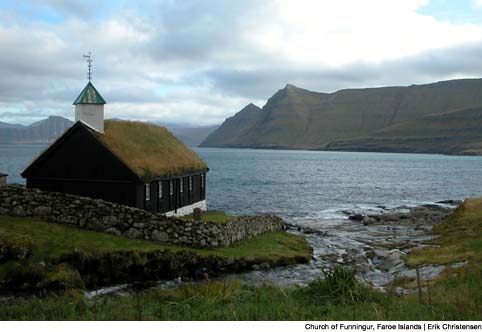 Green roof gardens, also known as a live roof, living roofs, green roofs or simply turf roofs are not a new concept - in one shape or form they probably date back to prehistoric times!
Due partly to their superb insulation properties - both retaining warmth and providing cooling, roofs utilising various types of soil and vegetation have been used for many thousands of years.
Their numerous benefits have been fully realised in the climatic extremes of the cold of Scandinavia, through to the heat of Africa . . .

Since the 1970s, green roof gardens have become increasingly popular in the contemporary landscape of Europe. The German Landscape Research, Development and Construction Society (FLL) were founded in 1975. They have been developing comprehensive European Standards for green roof technology since then.
The FLL are generally regarded as being the leading European authority on all types of green roof gardens.
It is reported that presently in Germany it is a legal requirement in many cities to include a green roof on new flat roofed buildings to account for land lost to development. Direct financial support can also be offered in the form of grants towards the green roof element of the build.
Even though green roof gardens have received backing from the Mayor of London amongst other high profile figures, we still have a long way to go before live roofs attain such official environmental and financial incentives in the UK . . .
Large scale living roofs are now very common on various types of commercial and public buildings - factories, hospitals, schools and offices - in many European countries.
As green roof consultants, designers and installers we supply and fit lightweight, purpose designed extensive and semi-extensive/intensive green roof material and systems. They are ideal for smaller green roof installations, and particularly for residential green roofs.
Low maintenance living roofs can be created on balconies, garages and extensions - even sheds, porches and outbuildings.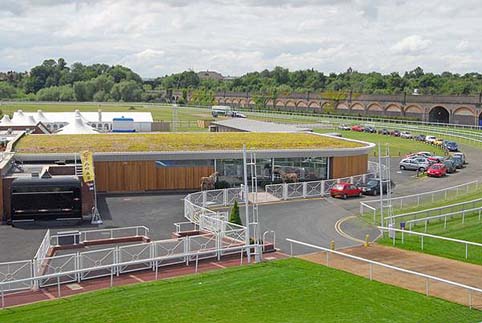 Most of the unused space in towns and cities is on rooftops - for example buildings (and therefore roofs!) cover 24,000 hectares or 16% of Greater London GLA (2001).
In inner city areas the roofs on housing estates, garages and extensions are all suitable candidates for green roof gardens!
An estimated 200 million sq.m (20,000 hectares) of existing urban roofs in the UK could be vegetated with little or no structural modification Corus (2001).
A relatively new concept are prefabricated greenwalls. These are based on a modular system and are supplied with established planting to provide instant greenwalls.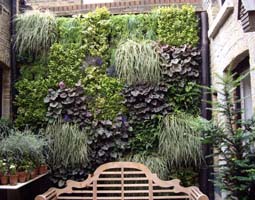 They require little maintenance beyond adding some fertiliser to maintain their vigour, and trimming off dead leaves.
Greenwalls are suitable for indoor or outdoor applications, where they are highly visible.
The unique design system allows water movement throughout, and prevents the carefully selected plants from becoming root bound within one module.
Green roofs and walls complement each other and share many of the same benefits. These range from providing valuable natural habitats, through to increased thermal and sound insulation.
What is a green roof? Brownlie (1990) has defined a green roof as an area of usually ornamental planting with a substrate (growing medium) isolated from the natural ground by a man-made structure of at least one storey.
The above definition has been extended to roofs that have been initially planted and/or sown, as well as those that have been allowed to colonise and develop naturally.
Green roof gardens do not also have to be purely ornamental in function. English Nature. Green Roofs: Their Existing Status and Potential for Conserving Biodiversity in Urban Areas.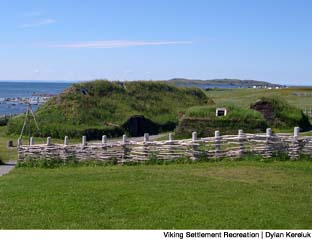 Living roofs are defined by two main types - extensive and intensive. Generally, extensive green roofs can then also be divided into 3 subtypes.
These are sedum roofs, turf roofs with hardy dwarf grasses that can contain a mixture of short wildflowers and can even become a wildflower meadow, and biodiverse green roofs.
Biodiverse green roofs are also known as eco roofs, brown roofs or rubble roofs! If they are covered with self-established vegetation they are often called spontaneous green roofs.
The definitions relate to 3 main factors, which are fairly fluid in nature. These are the amount of maintenance required, the depth of the growing medium, and the types of plants that can be supported.
Due to living roofs' many variable qualities and the differences in accepted terminology, these categories are not entirely definitive!
In many ways the indistinct boundaries between the various types of living roof are typical of their constantly changing and diverse nature.
This is especially true with the terms "semi-extensive" or "semi-intensive", which are generally interchangeable. They refer to living roofs that are mid-range in terms of weight, specification and maintenance.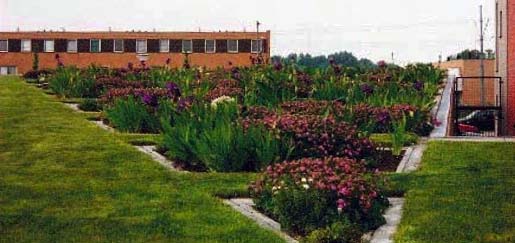 They offer the combination of growing mixtures of low or medium height perennials, grasses, bulbs and annuals from dry habitats. Taller wildflower meadows are possible, along with hardy sub-shrubs.
They are often a visual feature with limited access, and provide valuable natural habitats by utilising aspects of both extensive and intensive live roofs.
Their additional substrate depth of between 10-20cm (4-8 inches) can make them quite heavy, and they require the support of a relatively strong structure.
They can actually be small gardens, and can support a greater number and wider range of plants than a purely extensive green roof. They are generally low maintenance, although to maintain their decorative appeal during their longer flowering season they can require fairly regular watering.
Green roof gardens do not have to be planted using only one technique, nor do they have to consist of only one depth of growing substrate.
Some of the most successful, aesthetically pleasing and exciting green roof designs use a combination of soil depths and plant species, resulting in varied and richly abundant wildlife habitats . . .
Extensive green roofs. Also known as simple live roofs – especially when referring to sedum roofs and turf roofs, these are the most common type of green roof garden in temperate climates. They are not normally irrigated, and require minimal maintenance.
Extensive green roofs can either use a modular drainage tray system where the plant species are established off-site, or they can be vegetated and established on the roof. They can consist of a series of layers of anywhere between 2.5-10cm (1-4 inches) deep.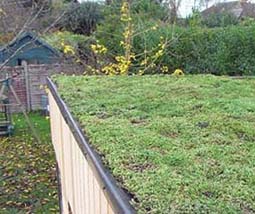 There is a fairly wide choice of planting options. Sedums (a small fleshy-leaved ornamental plant with yellow, pink or white flowers) as plugs or blankets, mosses, hardy dwarf grasses and wildflowers, drought-tolerant perennials, alpines and small bulbs are all possible.
In most climates extensive green roof gardens provide a low maintenance and durable system which regenerates seasonally.
They provide many of the benefits of green roofs, and have demonstrated the highest benefit to cost ratio.
Intensive green roofs. Also called amenity roofs, they are largely dependent on the structural capabilities of the building. As their specification increases so does the need for regular maintenance, which is generally the same as a comparable garden at ground level.
Intensive green roofs can be anything from lawns and patios, through to complete gardens, which can include large perennial plants, shrubs and trees - even ponds and water features!
The growing medium can be relatively deep - often over 10cm (4 inches) and can subsequently be heavy when saturated. Due to the weight loading factors involved, this type of green roof is not normally feasible in many domestic situations.
Access and safety. The British Standards Institution states that on newly built buildings, inspections must be carried out twice a year. It also states that access has to be provided to the roof area.
If there is no edge protection on the building, Health and Safety regulations require the wearing of a safety harness for anybody within 2m (6ft) of the edge. Brackets or fall nets around the green roof can provide attachment points.
In addition, the working at height regulations now stipulates that even if a roof is under 2m (6ft), edge protection is required. This can range from railings and balustrades, through to the provision of safety harnesses.
Guarantees and maintenance contract. Extensive green roofs are carefully designed to be largely self sufficient, but still do require some maintenance! This requirement can be covered by a maintenance contract.
We cannot guarantee the establishment and health of the various plant species without a maintenance contract, which can be renewed on an annual or biennial basis.
In the first year the maintenance contract offers 2 days of inspections, upkeep, support and advice for all types of extensive and semi-extensive/intensive green roofs. The timing of the 2 days is dependent upon the time of year of the green roof installation.
After the first year, the maintenance contract offers 1 day per year of inspection, upkeep, support and advice, although this can be increased if needed.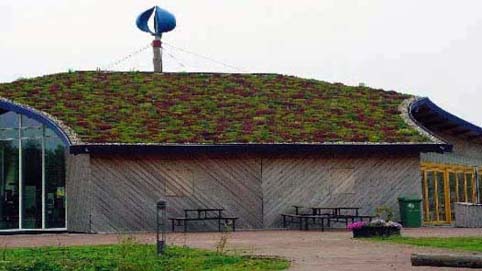 Our comprehensive and industry leading guarantees apply to the crucial waterproofing membrane or laminate, which are fully compatible with green roof gardens systems.
We provide a 20 years' manufacturer's backed guarantee certificate for all EPDM rubber flat roofs, including green roof gardens.
For all GRP fibreglass flat roofs including extensive and semi-extensive/semi-intensive living roof projects, we issue a comprehensive 30 years' company backed certificated guarantee.
Our guarantees are written in plain English and in simple, intelligible words, and state that they do not affect the consumer's legal rights. In addition, our guarantees are also transferable to new owners, should you sell the property.
Building standards. Part L of the Building Regulations require at least a 25% improvement in the energy efficiency of buildings.
Green roofs offer the construction industry a unique method in helping to meet this target.
In addition, living roofs help to meet standards such as the Code for Sustainable Homes and BREAM by improving the energy performance of a building.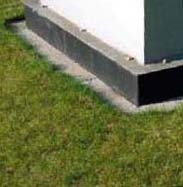 Fire breaks. All types of green roof gardens are specified to have a border 30cm (12 inches) wide, with a minimum depth of 5cm (2 inches) of washed river gravel, or other material with similar properties.
Whilst this can serve as a drainage aid, it also provides the additional safety feature of a fire break.
Even though green roofs are accepted as being fire resistant, the provision of adequate fire breaks is important.
This is especially the case with extensive green roofs, being mainly due to the relatively shallow growing medium and the typical lack of irrigation.
Green Roof Benefits. These are numerous, and have been discussed by Brownlie (1990), Johnston & Newton (1993), Johnston (1995), Osmundson (1999) and Wells (2001).
The numerous benefits are cited as being health, economic, education, amenity, building fabric, ecological, biodiversity and environmental. They are provided, in various degrees, by all types of green roofs.
Green roofs may even aid in gaining planning consent! This is because of the role that they play in contributing to sustainability, enhancing local biodiversity and assisting sustainable urban drainage systems (SUDS).
These are all important elements in local planning that authorities can favour. In addition living roofs can provide a viable solution to environmental policy issues. This can speed up the process of gaining planning permission, thereby saving developers time and money!
For successful contemporary green roof gardens the sciences of waterproofing, engineering and horticulture all need to be drawn upon . . .
The correct specification of a purpose designed, long life waterproof membrane or laminate system is critical. A correctly installed live roof provides substantial additional protection to the waterproofing system from the rigours of weathering - particularly frost and ultraviolet light.
Drainage design must constantly maintain the right growing conditions for the green roof landscape, whilst coping with the excesses of storm water.
And the growing medium must provide the chosen plants with the correct nourishment and support over an extended time period.
All of our tried and tested live roof systems fulfil these important criteria.
Hertalan's EPDM green roof garden waterproofing systems are verified to the European FLL and DIN 4062 standards. Hertalan are established green roof manufacturers and their systems are proven and certified to be 100% root resistant.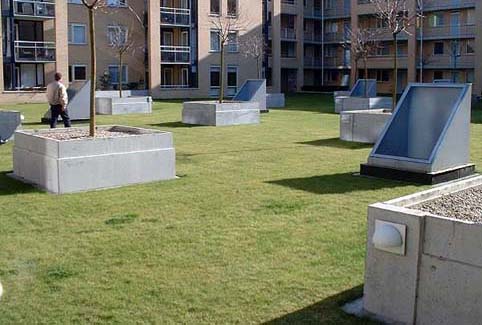 We recommend before beginning any green roof garden that a qualified Structural Engineer assesses the existing building's suitability and integrity.
This will highlight any potential issues and identifies possible constraints, and really helps in choosing the most appropriate type of live roof for the project.
With new build proposals the additional weight considerations should be factored in at the beginning of the design process - contact us for full specifications . . .
We can specify various types of plants that are ideal for living roofs, being hardy and drought resistant. Many of these have medicinal or utilitarian uses, and are even good for salads - making an "edible roof" covering an exciting possibility!
Live roof systems are constructed in many functioning layers. The specific layers are designed to recreate the natural growing conditions for the particular plants, as well as providing the crucial weatherproofing for the building.
Either an EPDM (ethylene propylene diene monomer) synthetic rubber membrane , GRP (fibreglass) laminate or other suitable waterproofing system is installed onto a well prepared construction deck, in combination with a vapour control membrane where needed.
A supplemental root barrier must be used with other waterproofing systems that cannot withstand decades of biological and root attack unaided.
A non-woven, geo-textile polyester fleece can also be specified for additional protection between certain layers. For example, this could be to prevent a waterproof membrane from being in contact with any embedded chippings that might be on an existing roof deck.




If required, Celotex "zero carbon" or EcoTherm PIR (polyisocyanurate) thermal insulation boards would be laid next, making an "inverted warm roof" construction. In this case the complete green roof garden system would act as additional ballast, helping to secure the insulation in place.
The plant and growing medium biomass bonds with the various live roof's layers, and also creates surface wind turbulence. Due to these combined factors it is not normally necessary to attach the elements of the green roof gardens to the construction deck to prevent wind up-lift.
With high-rise buildings, in coastal areas or any exceptionally windy locations appropriate ballast must be specified. Specific wind up-lift calculations can be supplied where required.
Normally a drainage layer is then laid. This could be a modular tray system - often used for extensive live roofs, a free draining stone aggregate layer or a combination of the two. The loosely compacted aggregate often consists of recycled building materials and can serve as additional ballast.
If a pre-grown modular system was not specified, then root barriers if required, finely engineered green roof soil layers, filter membranes, wind erosion blankets and roof edge trim retainers are put in place.
Hertalan's purpose designed roof edge trim retainers, or preformed GRP edge trims, assist free drainage whilst a giving a visually pleasing and functional finish to the green roof garden.
The actual living roof landscape is then ready to be installed and planted.
Certain types of intensive, and even some extensive live roofs can take a considerable amount of time to mature.
We have found that the constant change and growth that takes place during maturation actually adds to the joy and excitement of establishing a successful green roof garden!
Which type of green roof garden is the most suitable, and inspires you the greatest? Contact us today to discuss your needs and wants . . .

Return from green roof gardens page to green flat roofs home page.








Direct Lines: +44 (0)7546 934 015 | +44 (0)7519 504 181
23 Upper Bevendean Avenue | Brighton | Sussex | UK | BN2 4FG
Email: info@green-flat-roofs.com