GRP flat roofs - a premium product at an affordable price! 30 years' guarantee and over 40 outstanding colours . . .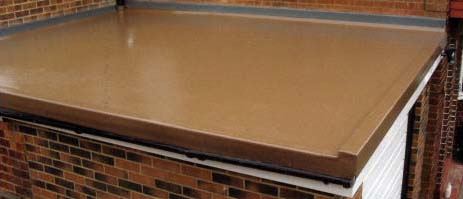 GRP (glass reinforced polyester - also known as fibreglass) was invented in the 1940s. It is corrosive proof, highly durable, exceptionally waterproof, lightweight, flexible and high strength.
It has a superb appearance and is totally compatible with recycled building material when used in a socially responsible manner, which in turn can support the green economy, and maximise your green investments!
Due to these properties it was rapidly adopted by many industries during the 1950s and 1960s and soon proved to be an invaluable material, and has been gradually embraced by green business . . .
A major application of GRP was for boat building in the 1950s - an industry in which it is still widely in use in the field of the developing green infrastructure. A number of RNLI lifeboats were constructed almost entirely of GRP and are used in the worst possible weather!
As GRP materials and practice improved many new uses for GRP evolved, and it is now a standard product to use for maximum returns on "green money" and subsequently green investments - which are helping to develop the green economy.
It has now become the standard material for the construction of water tanks, various building products, lorry and car bodies, underground pipes, ponds, pools, portable devices, swimming pool solar panel maintenance, flat roofs, new roofs, and can even be used in roof repairs.
In fact it can be used in any areas that require GRP's many unique properties.
A survey of GRP buildings by the BRE (Building Research Establishment) in 2001 found the condition of several GRP buildings between 25 to 30 years old to be structurally sound Halliwell, S. 2001. NGCC Conference, Composites in Construction: In Service Performance of GRP Composites in Buildings. 30-31. BRE.
With the developments in environmental technology, GRP has been utilised to serve the developments and progression of European green industry.
Advanced weathering tests indicated that only 0.3mm of the GRP topcoat (also known as the flowcoat) would be degraded after 50 years. Our standard topcoat is 0.8mm thick, so our GRP flat roofs are proven to provide excellent weatherproofing for a very long time - which can turn your green investment into "green money" - when you sell your property!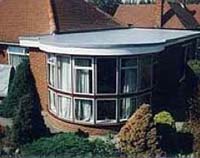 In addition, with the correct preparation and techniques, the GRP topcoat can actually be renewed when required, adding substantially to the already exceptional lifespan of our GRP flat roofs . . .
In the past 15 years there has been a rapid growth in the use of GRP in the roofing industry, as more and more people realise its many benefits - progressing socially responsible and sustainable businesses, and enhancing and developing the UK's and the global green economy and developing green industry.
GRP is frequently specified by many local authorities for large scale flat roof applications as it is the most cost effective and permanent solution, and is a viable solution when combined with environmental technology, and environmental consulting.
In comparison to traditional roofing materials GRP's lifespan is always many times greater - providing that the GRP roof has been properly installed - which makes a thorough site survey a crucial part of the GRP flat roof supply chain.
Our high performance GRP flat roofs have a proven life expectancy of well over 50 years!
Any problems that have been associated with GRP flat roofs in their early days can be prevented by proper preparation. By using the highest quality materials and by implementing the best possible working practices it is possible to reap the many benefits of environmental technology . . .
Our expert installers are constantly aware of this, and by combining these important prerequisites with their extensive knowledge, consistently achieve the highest possible standards - at all times which ensures a positive return on your green investments - and on your "green money".
GRP roofs must be laid onto a dry deck in dry conditions, and at a temperature not below 5°C on new roofs, and even to repair many leaking roofs. Because of this it is important that prevalent weather conditions are taken into account before the start of any professional GRP roofing project - be it even pool construction, where swimming pool solar panels can be used.
GRP flat roofs are normally a single ply laminate, unless additional layers have been specified - which would add to the overall longevity of the project - which would fulfill the desire of the property owner to receive a maximum return on their socially responsible green investments.
The laminate is a precise mixture of roofing grade resin and catalyst, which is applied with specialist tools to the layer of chopped strand matting (CSM). This methodology can even be used with swimming pool construction, where pool solar panels, electric heat pumps, air source heat pumps or even geothermal heatpumps can be used to produce green energy.
Chopped strand matting is a textile fabric made from multi directional, woven glass filaments and is available in different thicknesses or weights. Two or even three layers of CSM can be specified for areas requiring enhanced resilience and strength, which adds substantially to the life of the project, and ensures the most return on green investments - even with a residential green roof.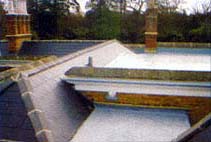 This is applied onto a top quality BBA (British Board of Agrément) and FSC (Forest Stewardship Council) certified Norbord Sterling OSB 3 (oriented strand board) decking - which as an eco friendly business is our preferred choice of decking for new roofs, and dovetails with our sustainable business plan.
The GRP roof is fitted with preformed GRP edge trims, which assist water drainage where required, which is essential to avoid leaking roofs.
A large range of preformed GRP accessories are available, which range from fillets through to flashing, and are specified as needed. Due to these accessories being produced off-site, our environmental consulting team has reduced the impact of environmental remediation.
Environmental remediation is where pollutants and contaminants can be released into the environment, which then needs radical and urgent green design and green cleaning to not affect any locally produced organic food.
As a socially responsible, sustainable business we have an executive education policy which works alongside our environmental technology professionals, who ensure that this does not occur.
The GRP flat roof is then finished with a protective coat of pigmented topcoat. The GRP topcoat is the protective, coloured top layer of GRP resin that has had an exact amount of wax solution added to it. It can be produced in a socially responsible manner, and can be combined with a green infrastructure model.
The wax solution helps to prevent surface tackiness and gives a very waterproof, hardwearing and visually appealing finish, which has been proved to last for over 50 years - ensuring your "green money" and your green investments in your socially responsible new flat roofs.
We offer a choice of three different topcoat finishes - smooth, standard "non-slip" and coated aggregate "non-slip" - all of which are fully developed environmental technologies, which complement the European green infrastructure strategy.

40 outstanding standard colours of GRP topcoat are available!

We can also attain the full range of BS and RAL colours if required. Custom colours are available as well, as we are able to mix pigments into the topcoat - making virtually any colour possible . . .
We have developed three different high performance GRP roofing systems, which are specifiable subject to the intended use of the GRP flat roof.
All of our GRP systems comply with current building regulations. Each of the systems has undergone our environmental consulting process, and ensures that the use of renewable energy maximised - renewable energy being very similar to sustainable energy.
For all GRP flat roofs including residential green roof projects, we issue a comprehensive 30 years' company backed certificated guarantee for the complete weatherproofing system.
We totally guarantee your green investments in the highest quality, GRP flat roof systems available. We have the winning combination of a sustainable business plan, with a market leading product and professional, experienced installers with a meticulous attention to detail.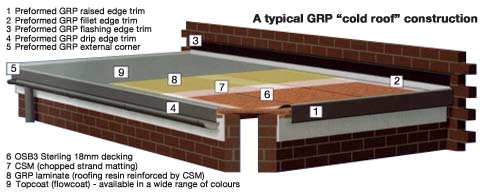 High Performance GRP Flat Roof - System One. Designed and specified for use in areas of limited foot traffic, such as conducting occasional building maintenance. Available with a choice of three different topcoat finishes - smooth, standard "non-slip" and coated aggregate "non-slip", which are fully endorsed by our environmental technology developments.
Ideal for use in many domestic and commercial GRP flat roofing applications. Suitable for dormers and porches, garages and carports, agricultural outbuildings and stables, new roofs, roof valleys and box gutters, roof light, gazebos, Velux roof windows, pavilions - even garden sheds!
High Performance GRP Flat Roof - System Two. Designed and specified for use in areas of heavy foot traffic. Available with a choice of three different topcoat finishes - smooth, standard "non-slip" and coated aggregate "non-slip".
Ideal for use in all domestic and commercial GRP flat roofing applications. This option is superb for balconies, verandas and walkways – it could even allow you additional usage for your flat roof areas and can be used in conjunction with Velux roof windows, rooflights and many other roofing systems . . .
High Performance GRP Flat Roof - Residential Green Roof Garden System. Designed for use with extensive (low maintenance, lowest weight) and semi-extensive/semi-intensive (they require more maintenance, and are of medium weight) green roofs.
The planting options are varied. Sedums (a small fleshy-leaved ornamental plant with yellow, pink or white flowers) as plugs or blankets. Turfs and hardy dwarf grasses, perennials, alpine plants, biologically diverse wildflowers, sub-shrubs and herbs are all possible which makes this socially responsible option and important part of local and national green infrastructure.


Green roof gardens greatly increase the life expectancy of a flat roof system by providing substantial additional weather protection - particularly from frost and ultraviolet light - to the GRP laminate.
This is helpful to reap the benefits of green investing, which in turn assists the growth of socially responsible environmental technology, the aim of which is ultimately to reduce the impact of greenhouse gas emissions and environmental remediation. Environmental remediation is where pollutants and contaminants are released into the environment.
They also provide excellent thermal and sound insulation, reduce the amount of storm water run-off and are great for wildlife.
Residential green roofs can even help in gaining planning consent! This is due to the role that they play in contributing to sustainability, enhancing local biodiversity and assisting sustainable urban drainage systems (SUDS). This is an important part of environmental technology, and can help with minimising storm damage and water purification costs.
These are all important elements in local planning that authorities favour, which benefit eco friendly business generally . . .
In addition, by providing a viable solution to environmental technology and environmental consulting policy issues, residential green roofs can speed up the process of gaining planning permission - thereby saving time and money!
We can provide designs and/or specifications for GRP based extensive and semi-extensive/semi-intensive green roof garden projects, as part of an integral green infrastructure plan.
Flat roof insulation. It is possible to combine any of our 3 High Performance GRP Flat Roof Systems with either a "cold roof" or a "warm roof". A residential green roof can be part of a cool roof system, by providing additional cooling in summer, and can also assist with storm water management systems.
A cold roof is where the insulation, if fitted, is between the joists.
Our warm roof option is where insulation is fitted above the joists, being an integral part of the actual GRP flat roof construction.
A warm roof may need to be specified in certain areas of a building to conform to Building Regulations (Part L). This is achieved by using either Celotex "zero carbon" or EcoTherm PIR (polyisocyanurate) thermal insulation boards.
GRP when used for flat roofing, roof valleys and box gutters, and green roof gardens has numerous features and benefits:
• "Cold application", so there is no use of potentially hazardous naked flames during installation - which helps to protect your green investments in a socially responsible manner.
• 30 years' company backed and certificated guarantees for all GRP flat roofing projects, including the waterproofing systems for our residential green roof garden.

• We always use Lloyd's Register's approved "Class A" high quality resins.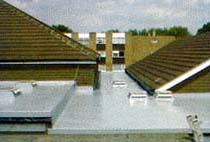 It is important that high quality "Class A" resins are always used, as they are the most capable of withstanding the many rigours of flat roofing applications, and that they are used in a socially responsible way, that helps the development of a viable environmental technology model.
• Proven life expectancy of well over 50 years - GRP is an incredibly weatherproof, resilient and long lasting material, which assists the environmental consulting sector.
• No systematic maintenance is needed for our superb GRP flat roofs - which acts to conserve green energy, which in turn reduces greenhouse gas emissions.
• Cost effective, long-term green investments in your property. Our 30 years' company backed and certificated guarantees are also transferable to new owners, if you sell the property - which helps you to gain a maximum return on your "green money" and your property's green investing.
• Rapid installation with minimal disruption, thereby being an important aspect of local and national green infrastructure plans.
• It is possible to make future modifications to the GRP weatherproofing system, such as the addition of flat roof windows, Velux roof windows, roof lights or even swimming pool solar systems.
• UV light stability, chemical and temperature resistant, highly waterproof, flexible and incredibly robust and is at the forefront of environmental technology developments.
• Newly available - our external fire exposure tested GRP roofing option - "BS18B25 Dark Admiralty Grey - Fire Retardant". Verified to BS476 Part 3 F.A.B., Bodycote Warringtonfire External Fire Roof Test. Full data sheets and report are available upon request.
• GRP flat roofs are mechanically bonded to the OSB decking and have no seams or joints - which can be the weakest point of many flat roofs.
• More socially responsible than many flat roof products, due to environmental consulting practice, and the small amount of resources and energy used during production and installation which reduce the global impact of greenhouse gas emissions.
GRP flat roofs' exceptionally long service life also adds to their environmental credentials and the development of green energy production. This is due to substantially less resources being used, in comparison to the frequent replacement required by most traditional flat roofing materials - another important part of a sustainable green infrastructure model.
• We can specify a wide range of purpose designed, preformed GRP roofing accessories, making virtually all flat roof features possible - no matter how intricate or complex.
• By combining our top quality materials, expertise and attention to detail we are able to install superb GRP flat roofs on virtually all existing or newly built buildings.
We are also able to produce finishes that can blend with existing features - we can even simulate lead or copper, making our GRP roofs perfect for historical and listed buildings!
We absolutely guarantee your green investments in the highest quality, most cost effective, GRP flat roof systems available! Contact us today to arrange for a FREE comprehensive site survey, professional advice and a free quote.

Return from GRP flat roofs page to green flat roofs home page.








Direct Lines: +44 (0)7546 934 015 | +44 (0)7519 504 181
23 Upper Bevendean Avenue | Brighton | Sussex | UK | BN2 4FG
Email: info@green-flat-roofs.com