Our mission to find the very best flat roof systems 
We are extremely pleased to announce that as a socially responsible green business, we are now certified and approved installers of the two best flat roof waterproofing systems currently available - for the ultimate long term green investments for your property.
We have over 35 years' experience as roofing contractors. So we knew exactly what to look for when we made it our mission to develop our green infrastructure model, and to find the most socially responsible best flat roof products and best flat roof practice currently obtainable in the blossoming global green economy . . .
After extensive research and thorough testing of the latest sustainable business developments, environmental technologies and procedures we have found two outstanding best flat roof systems - in terms of value for money, product benefits and also offering the best products available in the developing international green industry!
The two superb best flat roof waterproofing systems in our potentially recycled building material supply chain are Hertalan's BBA certified EPDM synthetic rubber membranes, and GRP fibreglass laminates, using Lloyd's Register's top quality resins.
By our comprehensive, rigorous and environmental technology selection process, we know that we have successfully accomplished our mission - to find the very best flat roofs available on the European green business market.
This will ensure that you always maximise the return on your "green money" and your green investing - and support eco friendly business and nurture green industry as well!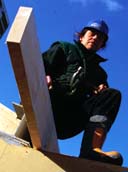 EPDM synthetic rubber and GRP fibreglass are both very lightweight and immensely durable materials.
EPDM rubber and GRP fibreglass both have high tensile strength, combined with excellent temperature stability and are fully compatible with many recycled building materials.
They also have the ability to minimise environmental remediation - which is where pollutants and contaminants are released into the environment.
Both of the superb best flat roof products are at the forefront of an essential green infrastructure model, and utilise the latest environmental technologies available.
Each of the systems also offer the most cost effective, long-term, socially responsible solution for your property's best flat roof that is possible - with proven life expectancies of over 50 years!
By their promotion and use they will help to develop the world wide footprint of green businesses and green industry - which will prove to be essential if the global economy is to tackle greenhouse gas emissions . . .
As well as installing the highest quality best flat roof and residential green roofs available, as a sustainable business that is very keen to promote the use of green energy and green electricity - we are professional and skilled roofing contractors - and also offer the following services:
Chimney repairs and storm damage restoration - using the latest renewable energy developments which help to minimise greenhouse gas emissions.
Roof valley and box gutter refurbishment or renewal, including
leak detection, leaking roofs and storm damage.
Fascias, cladding, soffits, gutters fixing, including the supply chain, fitting and waterproofing.
Velux roof windows, flat roof windows, roof lights, Velux sky lights and Velux sun tunnel specifying, supply chains and fitting.
. . . all with an initial free survey, free quotes, and free site survey!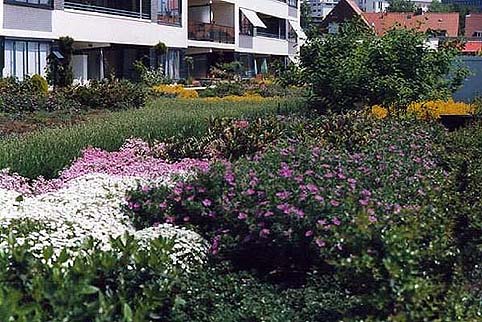 We provide our eco friendly business products and services for all domestic properties and home owners, facilities and estates managers, architects and designers, developers and self builders.
We can always provide the leading edge in environmental technology - with an enhanced environmental consulting option, which can include advice about electric heat pumps, air source heat pumps and ground source heat pumps . . .
We cover the south east of England - East and West Sussex, Hampshire, Kent, Surrey and South London with our best flat roofs, roofing services and general sustainable business services. We also attend all possible green industry trade shows - we look forward to the possibility of meeting you there!
EPDM synthetic rubber and GRP fibreglass, when used for flat roofing, roof valleys and box gutters, and residential green roof gardens have numerous benefits and features.
When installed by professional, qualified roofing contractors they can also enhance the green infrastructure of your locality - by promoting sustainable businesses, which in turn helps the green economy to grow which will ultimately lead to a reduction in greenhouse gas emissions.
Our 3 high performance GRP fibreglass best flat roof systems use Lloyd's Register's approved "Class A" top quality resins - which are proving more and more beneficial to the green business practice.
Hertalan's 5 EPDM flat roof systems have BBA (British Board of Agrément) certification (91/2728) and are manufactured to ISO 9001 and ISO 14001, which an environmental accreditation which is designed to aid sustainable business enormously.
We always use "commercial grade" 1.5mm thickness EPDM synthetic rubber on all domestic flat roofs, and on residential green roofs - which can also utilise recycled building material - which subsequently reduces greenhouse gas emissions.
Hertalan's Dutch parent company was established in 1895 and is one of the oldest rubber manufacturers in the Netherlands - they have tremendously assisted the development of many sustainable businesses and are an integral part of the European green business network.
They also encourage the executive education selection of green investing which incorporates many forms of a fledgling green industry, and use video conferencing where possible . . .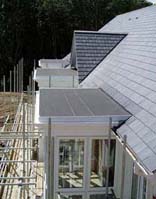 They were the first producers of EPDM synthetic rubber in Europe over 40 years ago and are a continually innovative organisation.
They are at the forefront of several environmental technologies, and strongly promote environmental consulting, and can advise about environmental remediation whenever needed!
They have developed a full range of market leading rubber flat roof products for the very best socially responsible, green industry roofing contractors - which supports the green investments in your property, which benefits green infrastructure - locally and globally.
These range from specialist adhesives and tools, purpose designed roof edge trims, reinforced rubber flashing and preformed EPDM accessories, recycled tiles, through to EPDM cladding and damp proof courses (DPC).
Quality control checks to ISO 9001 and ISO 14001 are carried out during the production of Hertalan's EPDM, and on the final product. These quality control checks include thickness, tensile strength and elongation, tear resistance, hardness and factory seam strength.
Unfortunately, there are inferior EPDM products on the market that do not actually support the green economy, and do not undergo the same exhaustive manufacturing processes, with such rigorous quality controls and can actually add to environmental remediation.
These lower grade products can be associated with DIY EPDM rubber flat roofs, and offer little or no guarantee - on materials or otherwise!
All of our company's senior staff are fully trained by Hertalan (UK). Our executive education culminated with in-depth training at their purpose designed facility in Nottinghamshire, and fully supports our socially responsible, sustainable business model - which in turn helps the UK's green economy to grow and flourish . . .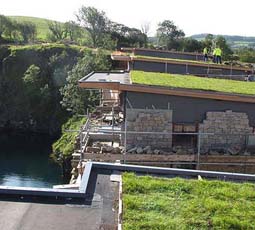 We continually benefit from Hertalan's immense knowledge and can obtain on-site advice, and support for the green infrastructure as required.
We can also utilise their comprehensive specification service, which ranges from thermal insulation, incorporating environmental technologies, through to wind uplift calculations, where and when necessary.
As approved, certified installers and contractors for Hertalan we have to continually and consistently achieve very high standards. This is totally in-line with all of our sustainable business plans, and ensure the maximum return on our customers' "green money" - and their subsequent green investments in their property.
Our green business is also subject to stringent quality control installation checks and environmental technology controls - on any EPDM best flat roof waterproofing project, and at any time!
EPDM synthetic rubber is a green building material and can become a recycled building material - which is entirely in keeping with our green business practice. This supports the international green economy, and is further documented by Greenpeace International in their Building the Future: A Guide to Building Without PVC report (October 1996).
We absolutely guarantee your green investments in the highest quality, best flat roofs that your "green money" can buy, and fully supports the global and local green infrastructure. As an ethical, socially responsible and eco friendly business we always undertake to carry out all work with the uppermost care, skill and diligence.
As an entirely green business, we manage and conduct all works in complete compliance with The Sale and Supply of Goods to Consumers Regulations 2002, whilst supporting the UK's green infrastructure, and continually endeavour to be a sustainable businesses.
The Department of Trade and Industry's Regulations apply to a range of transactions between businesses and consumers, including the sale and supply of goods.
One of the many stipulations of the Directive is that "free guarantees and/or warranties . . . will be legally binding on the person offering the guarantee."
We have the complete confidence to issue our free, legally binding and industry leading guarantees, which provide our clients with the absolute assurances that they demand and deserve for their properties' comprehensive green investments . . .
We provide a 20 years' manufacturer's backed guarantee certificate for all EPDM rubber flat roofs, including residential green roofs.
For all GRP best flat roofs including extensive and semi-extensive/intensive living roofs, we issue a comprehensive 30 years' company backed certificated guarantee.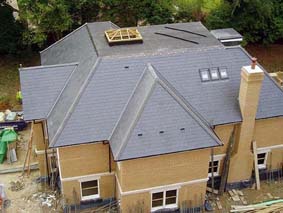 With the successful completion of many projects, we have conclusively proven that our materials, workmanship and expertise provide the many years of trouble free service as stated.
Our guarantees are written in plain English, and state that they do not affect consumers' legal rights.
In addition, our guarantees are also transferable to new owners, should you sell the property and reap the benefits of your green investments.
The Sale and Supply of Goods to Consumers Regulations 2002 summarises that "consumers are entitled to goods of satisfactory quality, taking account of any description, the price and other relevant circumstances."
In practice we continually strive to supply goods and services that actually exceed our customers' expectations, in keeping with our socially responsible, green business model!
We have the winning combination of the market leading best flat roof product range and professional, certified installers with a meticulous attention to detail . . .
Our company's ethos has always been to complete all projects and works correctly at the time of installation. We maintain stringent quality assurance procedures at all times, and always welcome any inspections by either a qualified independent Surveyor or an environmental consulting professional.
All of our best flat roof systems comply with current building regulations, to ensure the very best for your green investments!
We are fully insured, having £1m Public Liability Insurance.
"Cold roof" or "warm roof" options are available. A cold roof is where the insulation, if fitted, is between the joists. A warm roof is where the insulation is fitted above the joists, being part of the actual EPDM rubber or GRP laminate best flat roof construction, and save the amount of green energy that needs to be produced - locally and globally . . .
A warm roof may need to be specified in certain areas of a building to conform to Building Regulations (Part L). This is achieved by using either Celotex "zero carbon" or EcoTherm PIR (polyisocyanurate) thermal insulation boards, and can help to reduce greenhouse gas emissions.
Future modifications such as the addition of flat roof windows, Velux roof windows, roof lights, flat roof solar panels and even electric heat pumps, air source heat pumps and ground source heat pumps - which can all produce green energy or even green electricity - can always be made.
This is possible without having to replace the EPDM rubber or the GRP fibreglass best flat roof weatherproofing systems, and is due to the long term integrity and adaptability of both of the materials - which is entirely in keeping with our sustainable business models, and helps green industry to develop and grow . . .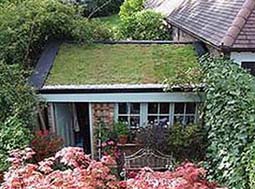 Green roof gardens, also called a live roof, residential green roofs, living roofs or simply a turf or grass roof.
Residential green roof gardens are proven to provide substantial additional protection to the waterproofing system from the rigours of weathering - particularly frost and ultraviolet light.
Residential green roofs are actually proven to substantially increase the life expectancy of flat roof weatherproofing systems, and are a superb way of utilising recycled building material on site - therefore minimising transportation costs, and helping to reduce greenhouse gas emissions.
Due to the high level of environmental technology involved, they are proven to assist with environmental remediation, where contaminants and pollutants can enter the environment - and are favoured by environmental consulting professionals.
There is a wide choice of planting options. Sedums (a small fleshy-leaved ornamental plant with yellow, pink or white flowers) as plugs or blankets, hardy dwarf grasses, perennials, alpine plants, biologically diverse wildflowers, bulbs, herbs and shrubs are all possible.
As well as being visually pleasing, live roofs also enhance thermal and sound insulation, reduce the amount of storm water run-off which assists stormwater management - and are great for wildlife!
Even an apparently simple turf or grass roof can be an ocean of life more complex and intricate than many of the seemingly more complicated realms of Nature . . . In summer and winter all manner of birds comb the turf for insects, seeds, or succulent shoots. Many animals, birds and insects will start to depend on the live roof for survival. It will be constantly awash in the motion of life - a grand provider of habitat and food, and always a source of wonder and beauty. With thanks to Tom Brown Jnr.
On a more rudimentary level - green roofs may even help in gaining planning consent - "brown roofs" or "eco roofs" are even an excellent way to use recycled building materials, which helps the nation's green infrastructure even further.
Due to the role that they play in contributing to sustainability, enhancing local biodiversity and assisting sustainable urban drainage systems (SUDS) - which assists with stormwater management, and can minimise the need for water purification. These are all important elements in local planning that authorities can favour.
In addition, residential green roofs - as well as providing valuable urban wildlife habitats - can also speed up the process of gaining planning permission, thereby saving developers time and money!
This is achieved by providing viable solutions to local environmental policy issues, which are essential to minimising greenhouse gas emissions, providing environmental technologies and developing environmental consulting.
Hertalan's EPDM best flat roofs and residential green roof garden waterproofing systems are verified to the important European FLL and DIN 4062 standards - which are an important benchmark for socially responsible, green businesses and are proven and certified to be 100% root resistant.
Top quality BBA and FSC certified Norbord Sterling OSB (oriented strand board) is our preferred specification for decking due to its help with green investments which provide a maximum return on your "green money" . . .
Sterling OSB board is of such a high quality that it is often used with underfloor heating systems which ideally are combined with either electric heat pumps (which can have solar powered controls, and are then known as solar heat pumps), air source heat pumps and ground source heat pumps - to produce green electricity and green energy!
To comply with Greenpeace International's Alternatives to Unsustainable Plywood in the UK Construction Industry report (August 2008) we always ensure that all Sterling OSB materials that we use are from socially responsible sources, who benefit the global green industry, and consciously attempt to minimise greenhouse gas emissions, and who utilise environmental technologies whenever possible.
As a socially responsible, green business we also ensure that the actual product itself has FSC certification - not just our suppliers!
We are able to provide full FSC Project Certification on all EPDM and GRP best flat roofs as required, including green roof gardens.
This process allows the FSC Certification Body to audit and check that environmentally sound, legal timber has been used throughout - we also ensure that we use recycled building material whenever possible!
We also offer FSC Partial Project Certification, where some of the timber elements of the scheme are FSC certified which is in line with our company's sustainable business protocols.
It is essential that our company supports green business and the green industry throughout supporting the best flat roof available in the UK construction industry.
We reflect this commitment through our executive education programme (which uses video conferencing when possible), our choice of recycled building materials, our sustainable business models, our attendance of eco trade shows, and our promotion of environmental technology and energy savings . . .
We comprehensively guarantee your green investments in the highest quality, most cost effective, best flat roof and residential green roof systems available! Whatever your best flat roof needs - contact us today to arrange for a site survey, advice on sustainable energy use and a free quote - TODAY!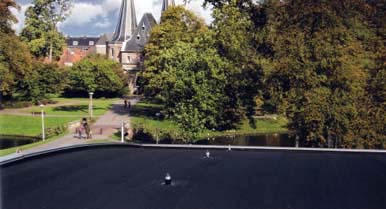 Direct Lines: +44 (0)7546 934 015 | +44 (0)7519 504 181
23 Upper Bevendean Avenue | Brighton | Sussex | UK | BN2 4FG
Email: info@green-flat-roofs.com



Roof Repairs PA
- Roofing Contractor specializing in Roof Repair. Adept Roofing is based in Catasauqua PA - in the USA - and services the Lehigh Valley area.
Get your fast track, discount at www.1st-direct.com -
Pool Chemicals
Football Plays
The ultimate Football Play Designer. A great football play creator for tackle and flag football that doesn't require software downloads.
GRP flat roofs. A premium product at an affordable price. 30 years guarantee. Over 50 years life expectancy! Lloyds Registers approved resins. 3 high performance systems with over 40 colours . . .
EPDM rubber flat roof. BBA certification. Manufactured to ISO 9001 and ISO 14001. Certified installers. Eco-friendly. Manufacturers 20 years guarantee. Over 50 years life expectancy!
Green roof gardens. EPDM rubber live roof - BBA & FLL certified. GRP green roofs - Lloyds Registers quality resins. Both waterproofing systems are fully guaranteed, with over 50 years life expectancy!
EPDM rubber flashing. Eco-friendly lead flashing alternative. Cost effective. Rapid installation. No intrinsic resale value - should not get stolen! Also specially developed roof accessories.
Roof adhesive and roofing tools specially formulated for EPDM rubber flat roofs. Complete range for unparalleled performance. Superb weatherproofing requires exceptional products . . .
EPDM flat roof edge trim. Unique, high quality design. Helps the drainage of water from a rubber flat roof. Edge trims also secure the roof perimeter whilst enhancing the appearance of the property.
Alternative to PVC cladding. Ecologically friendly. Unparalleled weatherproofing. Contemporary, aesthetic, matte black finish. Also EPDM rubber damp proof course.
5 roof fixing systems. BBA certification and manufactured to ISO 9001 and ISO 14001. Eco-friendly. Approved installers can fit superb EPDM rubber flat roofs at nearly any time of year!
Recycled tile. Slip and impact resistant. Economical, hard wearing, recycled rubber. Free draining and porous. 4 simple, tasteful colours. Specially designed for frequently used areas.
Sterling OSB decking. Designed for structural use in humid conditions. BBA and FSC certified. Manufactured to ISO 14001. Eco-friendly. Re-boarding or over boarding options available.
Free quotations, professional advice and site surveys. Contact us today . . .
The "Best Flat Roof Blog" keeps you up-to-date with all additions and changes to the green-flat-roofs.com website. Subscribe here.
GRP flat roofs colours. 40 outstanding standard GRP protective and weatherproof topcoat colours to choose from! Full range of BS, RAL and custom colours also available . . .
HTML Privacy Policy. We strive to maintain the highest standards of decency, fairness and integrity in all our operations. Likewise, we are dedicated to protecting your privacy on our website.
Would you like to share your knowledge about best flat roof? Great, find out how you can submit your story or tip here.