Eco-friendly Sterling OSB decking.
Designed and engineered for structural use in humid conditions. Either re-boarding or over boarding is possible . . .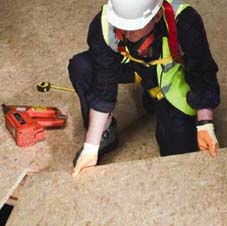 We can recommend either re-boarding or over boarding your existing flat roof when we either see detailed photos, or conduct a site survey.
During the site survey we will thoroughly inspect your roof's condition.
We will always suggest the most appropriate and cost effective solutions.
We will also assess the condition of the existing decking, joists and associated woodwork. We will also identify any potential insulation and ventilation issues.
Time frames, costs and pitch and drainage optimisation are considered, as are any other relevant factors - every flat roof project is different, with its own unique set of considerations!
On newly built projects we can either fit the new boards, or we can install any of our flat roof systems onto a well fitted deck.
Please contact us before the new deck is fitted for specifications.
We will decide with you which course of action is most suitable for your particular circumstances.
Whichever option is decided upon we will either re-board or over board the existing flat roof area, using BBA (British Board of Agrément) and FSC (Forest Stewardship Council) certified Norbord Sterling OSB 3 (oriented strand board).
This is a precision, engineered board that is manufactured to ISO 14001 International Standards, and is designed for structural use in humid conditions.
It is the ideal product to use with any of our EPDM synthetic rubber or GRP fibreglass flat roof systems.
Sterling OSB decking far outperforms plywood - it is much less susceptible to stress related problems such as splitting and warping, and does not suffer from ply separation and de-lamination.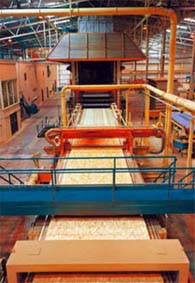 Due to its exceptional dimensional stability, uniform structure (no knot holes or core voids), and moisture resistance it is rightly becoming the leading industry product.
Each Sterling OSB board is produced by bonding, with a resin binder and wax, and compressing tens of thousands of precisely oriented rectangular wooden strips.
The cross directional structure of the strands gives Sterling OSB its increased strength and rigidity.
Throughout the highly automated and fully engineered manufacturing process, Sterling OSB panels are monitored and tested to meet stringent quality standards.
Being a green building material Sterling OSB decking has a much stronger environmental profile than many types of plywood.
This is especially the case with tropical hardwood plywood that often comes from destructive and even illegal sources. This is documented by Greenpeace International in their Alternatives to Unsustainable Plywood in the UK Construction Industry: Setting a New Standard report (August 2008).
Sterling OSB decking's raw materials are small diameter logs, usually from smaller trees that are thinned to allow larger trees room to grow.
Thinning out forests encourages the growth and sustainability of surrounding plants, trees and wildlife.
The raw materials are sourced from carefully managed FSC certified forests in the UK and Ireland.
The FSC is the only really credible, internationally recognised forest certification system. It gives the absolute assurance that timber products come from forests that are responsibly managed.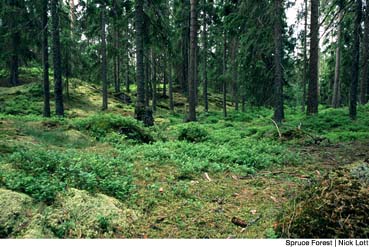 It is also the only system supported by major environmental groups including Greenpeace, Friends of the Earth and WWF.
To comply with Greenpeace International's report we always ensure that all Sterling OSB decking that we use is from environmentally and socially responsible sources. We also ensure that the actual product itself has FSC certification - not just our suppliers!
We are able to provide full FSC Project Certification on all EPDM and GRP best flat roof projects as required, including green roof gardens. This process allows the FSC Certification Body to audit and check that environmentally sound, legal timber has been used throughout.
We also offer FSC Partial Project Certification, where some of the timber elements of the project are FSC certified.
As a company we are only too pleased to support more sustainable practices in the construction industry. We reflect this commitment through our choice of environmentally friendlier materials and practice whenever possible . . .
Re-boarding or over boarding - that is the question! Contact us today to discuss the possibilities . . .

Return from Sterling OSB decking page to green flat roofs home page.








Direct Lines: +44 (0)7546 934 015 | +44 (0)7519 504 181
23 Upper Bevendean Avenue | Brighton | Sussex | UK | BN2 4FG
Email: info@green-flat-roofs.com