Recycled tile. Slip and impact resistant. Economical, hard wearing, recycled rubber. Free draining and porous. 4 simple, tasteful colours. Specially designed for use in frequently used areas.
Hertalan "easy tiles" are manufactured from recycled rubber. The recycled tiles are specially designed to protect the EPDM membrane in frequently used areas. The recycled rubber tiles are also environmentally friendly.
They are ideally suited to complement either ballasted, mechanically fixed or adhered roof fixing systems. They can also be integrated with an extensive or intensive green roof garden.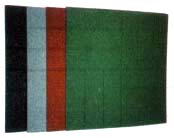 The rubber tiles are available in 4 colours – black, grey, terracotta and green.
The tiles are economical, hard wearing and slip resistant. They are produced in two thicknesses – 15mm and 30mm.
The 15mm thick rubber tiles have a subtle interlocking brick pattern.
The 30mm thick tiles fully comply with the International Safety Standard DIN EN 1177 that relates to impact absorption.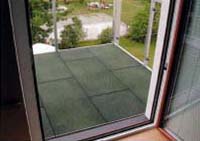 The rubber tiles are designed not to retain water on rubber flat roof areas. They are free draining and water permeable.
Hertalan have an extensive, purpose designed, market leading product range. We have the professional, certified installers with a meticulous attention to detail. Contact us today for the winning combination . . .

Return from recycled tiles page to green flat roofs home page.








Direct Lines: +44 (0)7546 934 015 | +44 (0)7519 504 181
23 Upper Bevendean Avenue | Brighton | Sussex | UK | BN2 4FG
Email: info@green-flat-roofs.com